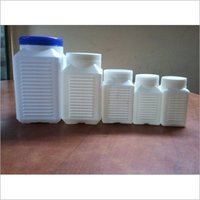 Plastic Rib Container
Product Description
Established in the financial capital of India, Mumbai (Maharashtra), we are manufacturer and supplier of Rib Containers that are widely used in the pharmaceutical industry for storing tablets and capsules that keeps it safe during transportation and in the transit period. These Rib containers are a manufactured using premium quality food grade virgin HDPE plastic granule that assures high durability, strength and also maintains desired hygienic level.

Types Available
Around 18 type HDPE Plastic Rib Containers bifurcated in 3 groups i.e. small, medium and large.
Additionally, customer area eased with the availability of the Rib Containers in varied sizes and dimensions as per the specifications provided.

Variants Available :
Export
Ethical
Generic

Specifications

| | | | | | | | | |
| --- | --- | --- | --- | --- | --- | --- | --- | --- |
| Code | Overflow capacity | All size are in mm | All size are in mm | All size are in mm | All size are in mm | Standard weight in gram for | Standard weight in gram for | Standard weight in gram for |
| | (in ml) | A | B | C | D | EXPORT | ETHICAL | GENERIC |
| RB-150 | 235 | 60 | 53 | 96 | 43 | 25 | 22 | 20 |
| RB-250 | 300 | 72 | 54 | 109 | 43 | 30 | 25 | 22 |
| RB-350 | 350 | 72 | 62 | 102 | 55 | 35 | 30 | 25 |
| RB-400 | 420 | 80 | 65 | 106 | 55 | 40 | 35 | 30 |
| RB-450 | 550 | 86 | 65 | 123 | 55 | 45 | 40 | 35 |
| RB-500 | 550 | 92 | 72 | 107 | 65 | 45 | 40 | 40 |
| RB-500A | 575 | 92 | 72 | 115 | 65 | 50 | 45 | 40 |
| RB-550 | 765 | 92 | 74 | 137 | 65 | 60 | 50 | 45 |
| RB-750 | 975 | 93 | 72 | 174 | 65 | 65 | 60 | 50 |
| RB-750A | 1000 | 93 | 72 | 178 | 65 | 70 | 65 | 55 |
| RB-1050 | 1050 | 89 | 70 | 202 | 58 | 75 | 70 | 60 |
| RB-1050A | 1100 | 89 | 70 | 213 | 58 | 80 | 75 | 65 |
| RB-1100 | 1175 | 103 | 87 | 164 | 75 | 80 | 75 | 70 |
| RB-1250 | 1275 | 100 | 87 | 180 | 75 | 85 | 80 | 75 |
| RB-1450 | 1475 | 108 | 93 | 180 | 95 | 90 | 85 | 85 |
| RB-1650 | 1850 | 104 | 87 | 245 | 75 | 120 | 110 | 105 |
| RB-2000 | 2225 | 112 | 112 | 205 | 92 | 130 | 120 | 110 |
Contact Us
No. 311, Shankala Industrial Estate, 186, Gogate Wadi, Goregaon (E), Mumbai, Maharashtra, 400063, India
Phone :+918068090396